We have had an exciting year with two major CC Uganda meets ups that we would like to share. The first was held at Outbox Hub on the 8th of February  in Kampala, Uganda and was our Chapter Registration Meeting (below right).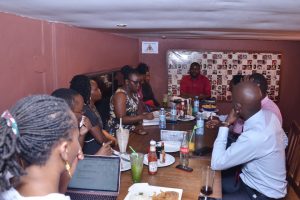 The second event was our Update Meeting held at Endiro Café in Kisementi, Kampala that was held on the 25th of September 2019 (above left).
Creative Commons Uganda E-checkin
On the 25th of August the Uganda chapter of creative commons had it e-checkin event where several issues were discussed. You can read more about it here.